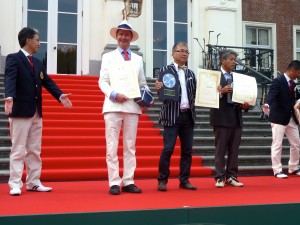 Kazu Ishihara accepts the People's Award following a public vote from the visitors to the Gardening World Cup for his Japanese Garden.
Jonathan Denby, the runner up, accepts a special award for his Mr McGregor's Garden.
You must install Adobe Flash to view this content.
Jonathan Denby's Mr McGregor's Garden attracted a great deal of interest from Japanese visitors, primarily because of it's links with the rescue operation following the tsunami of March 2011. The video is of television coverage featuring Mr McGregor's Garden.
Huis Ten Bosch
Huis Ten Bosch is pronounced Haustenbosh and means 'house in the forest', Home to the Gardening World Cup, it is a spacious 375 acre theme park, which is roughly the size of Monaco and replicates a mediaeval 17th century Dutch town.
Styling itself as an eco-city and botanical resort it was opened in 1992 and is quoted as costing approximately $3bn to build. It is both monumental in its conception and extravagant in its execution; an idealised version of Holland complete with windmills, palaces, villas, canals and tulips.
The park is broken up into several distinct areas, one of which is Palace Huis Ten Bosch where the Gardening World Cup event is held. This beautiful part of the park, with its stunning full size replica palace, provides a regal setting for the competition.
2011 Best in Show
Bushfire
Jim Fogarty
Australia