Jin Zhen Chao - Behind the designer...
As a registered architect Jim Zhen Chao understands how to integrate construction and the environment by blending architecture with nature. From childhood, he has liked to garden. His work is influenced by his mentor, Mr. Fu Deliang, a famous Chinese traditional garden designer and a landscape architect. The idea of "reasonable spatial layout and perfect effect" is reflected throughout my own design career. To create a quiet space for leisure the people living and working in the busy and noisy urban environment is my ideal. Jim Zhen Chao is best known for a lively use of natural light, sound and shadow in a whole landscape project which is based on the traditional Chinese elements.
His courtyard garden is full of symbolism: the white wall with entrance, is the 'the north yard', the aspiring pool is on the south (Chinese FENGSHUI); the eastern aspect is a timber fence and low wall. The garden also commemorates the centenary of the 1911 XIN Hai revolution.
Profile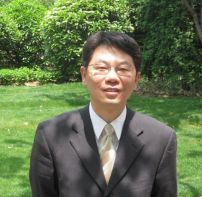 Name: Jim Zhen Chao
Website: awaiting details
Awards
Projects worked on include these:
Golden Plaza / 2005
Shanghai Dong Jiao National Hotel / 2005
Shanghai Institute of Foreign Trade / 2006
Shanghai Mandarin City Phase / 2006
City Bank China Branch / 2007
New Harbor City / 2008
Sanda Group / 2008
Forte Tianjin Center / 2009
Shanghai Culture Plaza / 2010
Pudong Software Office Park / 2010
Tianjin Lujiazui Plaza / 2010