Jo Thompson - Behind the Designer...
After a 10 year career in teaching Jo started her second career in garden design in 2005, with immediate early recognition of her unique planting design skills acknowledged by the Garden Design Journal and The Independent. Jo designs a wide range of gardens from tiny rooftop spaces to residential gardens, public spaces and country estates, both in the UK and overseas. Her work draws inspiration from the Italian landscapes where she spent her childhood summers: the gardens she creates tend to be structured within strong classical lines, softened by abundant and natural planting.
A rippling pool lies amongst olive trees in a secluded grove. The three large olive trees will, with luck, create the idea of a peaceful grove. The 3m diameter rippling pool is a large feature set in the ground: this again is designed to add to the feeling of calm with the gentlest of movement.
The Reconnection Garden is intended to be a space that can be used as a place of retreat: retreat in the sense either as a time of solitude or as a community experience. Layout shapes derived loosely from a spiral are intended to suggest an atmosphere which can be inclusive and embracing. The garden's vertical structure comes in the main from plants and trees. There are also five bench-features, a circular pool with an intermittent pulse creating ripples in the water and olive trees to suggest the feeling of a secluded grove. The olive has long been associated in many countries with the message of peace. It is also an important plant in Italian agriculture, providing oil and timber as well as its own fruit, and links this garden to the country it represents in the Gardening World Cup.
Profile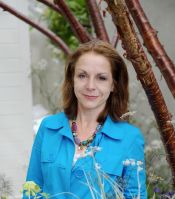 Name: Jo Thompson
Website: http://jothompson-garden-design.co.uk/
Awards
Jo won gold and 'Best in Show' (urban gardens) at last year's RHS Chelsea Flower Show and won silver gilt in the previous year. She designed Thrive's contemporary garden for the RHS Chelsea Flower Show in 2010 around the theme of the 'Unexpected Gardener'. Jo's therapeutic 'Demelza' garden, designed for a children's hospice in Kent, won a silver-gilt medal at RHS Chelsea Flower Show 2009. Both gardens have subsequently been rebuilt at the respective organisation's headquearters. She has been named by as one of the 10 rising stars in garden design and tutors at the London College of Garden Design. Ahead of the Gardening World Cup she is also curating an exhibition entitled 'Bright Green Shoots' at the UK National Gardening Show in September 2011, where she will bring together a group of exhibitors practicing innovative techniques in gardening.